For a long time, the classic stethoscope has become instrumental in the lives of healthcare professionals and the success of the healthcare system as a whole. While the traditional stethoscope remains symbolic in healthcare, it is already 2019. A stethoscope should be more than just a gadget used by nurses and doctors; it should be a tool that no healthcare professional can live without. It would be unfair for technology to be introduced into the healthcare system without making any contribution to the classic stethoscope. That is why electronic stethoscopes were invented and are becoming popular.
The Use of Stethoscopes from the Past
Indeed, stethoscopes have come a long way. For the past decades, conventional stethoscopes are considered as a badge of honor on the part of the healthcare professionals. In terms of function and design, this tool has not changed. While in terms of design, the electronic stethoscopes have been enhanced, significant technological advancements have also made them what they are today.
Electronic stethoscopes are a result of several design changes and prototypes over the years. The use of electronic stethoscopes is the best way to do auscultation despite the room being filled with the noise of electronic instruments, fans, and computers. So, the way how a stethoscope works is basically the same in theory with these types.
Majority of registered nurses swear by using a particular electronic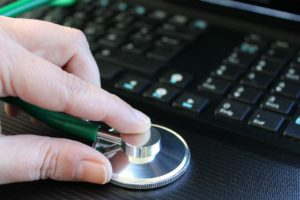 stethoscope such as the Littmann Electronic Stethoscope.
However, there are other nurses and healthcare professionals who are not sure which one they should use.
Finding the perfect electronic stethoscope can be quite challenging. Some nurses swear by this particular brand of microscope while some swear by another.
In the past years, a good number of electronic stethoscopes have been launched in the market. By looking at the features and benefits that leading electronic stethoscopes have to offer you, you will not have a hard time comparing and contrasting between stethoscopes and finally choosing one that best fits your particular needs.
Key Features of Electronic Stethoscopes
Here you will find some of the key features that you have to consider in the electronic stethoscope that you choose. What follows after are some of the best electronic stethoscopes that that market has to offer. So, make sure that you stay tuned and read until the end.
Amplification
Popular stethoscopes make use of top-notch transducers for healthcare professionals to have the ability to amplify lung sounds, heart murmurs, and other sounds much better. These tiny devices can convert acoustic soundwaves into digital electronic signals. In turn, they can be manipulated, processed, and amplified in some ways so that you will be provided higher-level listening experience.
Ambient Noise Reduction and Handling
In isolation, sound amplification is an amazing feature. However, there are times that it can cause some serious issues. For instance, your ears could be damaged when you continuously hear sharp and loud ambient noises such as those made by the whir of a fan.
To reduce the risk of damaging your ears, electronic stethoscope makers have created stethoscopes that can effectively eliminate unwanted sounds upon auscultation. This is made possible with the use of attenuation mechanism with special filters that can help neutralize ambient noise and the use of background noise filtering.
Communication Protocol and Software
What makes electronic stethoscopes better than their predecessors will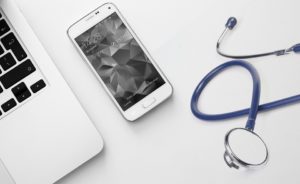 have to be their ability to record and transfer auscultated sounds on board. You just have to establish a wireless connection between your stethoscope and your software suite and you will now be able to save the files on your computer. You can even share the audio sounds that you have recorded in a remote manner with other specialists in real time.
You cannot expect this feature in conventional stethoscopes. Electronic or digital stethoscopes that have communication protocols often come with software packages to allow recording and forwarding of sounds in real time. In this way, you can listen to tracks at full or half playback speed, seek opinions from your peers, visual heart sounds, and have these files attached to the medical records of your patients.
Battery
Earlier models of electronic stethoscopes often fail in their battery feature. This has led to a lot of clinicians being inconvenienced and considering such devices with utter uselessness. However, as the years pass by, leading makers of electronic stethoscopes guarantee longer battery lifespans that make a single AAA battery last more than 25 times in a day for 5 days in a week.
Ease of Use
A user-friendly electronic stethoscope must be very easy to use in terms of its controls. In addition, they must have dedicated buttons that allow power on/off, adjust volume up/down, and change mode between bell and diaphragm right on the head portion.
The Best Electronic Stethoscope Pieces Today
Now, that you know what features to look out for in choosing a good electronic stethoscope, here are some of the best electronic stethoscopes that the industry has to offer.
1. 3M Littmann 3100
If you are looking for an electronic stethoscope that is easy to use, lightweight, and extremely comfortable, then this is the one for you. The Littmann 3100 offers 24x amplification and an amazing sound experience just like top-of-the-line cardiology stethoscopes.
Though it does not offer any recording feature, it comes with an exclusive noise reduction technology that helps get rid of ambient noise that can interfere with your auscultation. Its exceptional filter performance and top-notch sensor design are features that help minimize disturbance to allow you to focus more on what you must hear.
This quick 3M Littmann Master Cardiology Stethoscope review might help you with a few comparison ideas.
2. Thinklabs ONE Headphone Amplified Stethoscope
For unparalleled sound quality, nothing beats Thinklabs ONE's electronic stethoscope. Its 100x amplification feature comes with adjustable volume controls that let you set the necessary augmentation levels for each patient.
It gives you all the power that you need to overcome auscultation issues like faint sounds, tiny murmurs, obese patients, and noisy settings. Furthermore, you can even use your own headphones when you use it because its design is devoid of any bulky stethoscope tubing.
3. Eko Core Digital Stethoscope
Among the many electronic stethoscopes that have graced the industry, nothing is as unique as the Eko Core Digital Stethoscope that offers both analog and digital features. You can attach it to an analog stethoscope for its digitizing abilities. Furthermore, you can connect it with your Eko mobile app to enjoy a range of features from visualization, transfer, and recording of sounds. Keep in mind that the attachment is incapable of recording sounds. However, audio signals pass through it with the help of the mobile app.
This short video might help you as well with some tips and information about the electronic stethoscope: